fun in the arizona sun
Bartlett Lake in the tonto national forest
Bartlett Lake has a boatable surface area of 2,815 acres - more than Canyon Lake and Saguaro Lake, combined. Fed by the pristine waters of the Verde River, Indians of this valley spoke descriptively in their legends of the river's "sweet waters".
Outdoor enthusiasts frequent Bartlett Lake for a variety of recreational opportunities, including shoreline camping in Arizona's natural desert terrain. While in this part of the Tonto National Forest, visitors may see mule deer, bald eagles, javelina, coyotes, and many indigenous desert plants, including the majestic saguaro, mesquite trees and blooming ocotillo.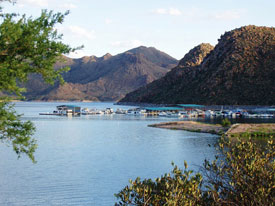 Bartlett Lake is located only 48 miles from downtown Phoenix and 17 miles northeast of Carefree. The newly engineered, fully paved, scenic Bartlett Lake Road combined with the expanding Phoenix freeway system offers easy access from the entire Valley of the Sun. Tonto National Forest campground improvements, handicap accessibility, and safety features provide for safe, enjoyable recreation including hiking, boating, water skiing and fishing.
Come to Bartlett Lake for a great vacation or weekend full of fun and relaxation! Boating, water skiing and jet skiing are popular at Bartlett Lake. It offers the best of both worlds: gently sloping beaches on the west side and mountains that break the wind on the east.
Give Bryan a call at (480) 221-0503 to schedule time to walk-through our fleet & begin your next adventure!
Learn more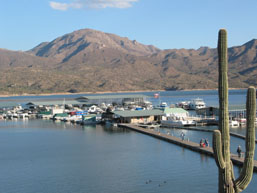 Located 45 minutes north of downtown Phoenix on beautiful Bartlett Lake in the heart of the Tonto National Forest, Bartlett Lake Marina's family atmosphere and beautiful surroundings makes it a wonderful location for your friends and family to enjoy an unforgettable Arizona day on the water. Bartlett Lake is the second largest lake in the Phoenix Metro Valley area, with boatable surface area of 2,815 acres - more than Canyon Lake and Saguaro Lake, combined. Our lake isn't like many of the others your familiar with, it is better! It is often remarked by lake visits how much "less crazy" Bartlett Lake is over other popular valley lakes. Join us at Bartlett Lake for a stress-free day at with your friends and family on the water?
Bartlett Lake Marina is a state-of-the-art facility with full service boat storage (covered & uncovered), complimentary member boat launch's seven days a week, on-the-water gas pumping dock and private secure wet slips with full utilities (water, sewage & power). Our entire facility is protected behind pass coded protected gates, security fencing and closed-circut cameras. Your property's security and protection is our primary concern. Rest assured, your boat is safe with us!
Membership Levels

Gold Level Membership
One time fee:$795
Monthly dues: $289
Unlimited use of our clubs pontoons & run-abouts
more
BARTLETT LAKE NEWS LETTER